A message from CCBA
Welcome to the official website of the Chinese Consolidated Benevolent Association, the oldest service organization in Chinatown established in 1883.

The Chinese Consolidated Benevolent Association (CCBA) is one of the oldest community organizations in Chinatown. The parent organization of the Chinese Community Center, the CCBA was founded in 1883 and has represented and served the needs of Chinese Americans in New York City ever since. Historically it has performed a quasi-governmental role in the Chinese community. Throughout its history, business ownership has been a goal of many residents of Chinatown, and has been supported both financially, and through training, by the CCBA.

Currently, the CCBA represents the Chinese-Americans living in the Greater New York Metro area. Internally, the CCBA is the hinge that keeps the Chinese-American community intact and vigorous. Specifically, the CCBA:
Our Services: (For details please click "Services" page)
Adult English Classes - Provides low cost English lessons to new immigrants.
Naturalization Service - Working the DYCD and the Chinese Voters Federation, CCBA provides assistant to new immigrants to apply for the U.S. Citizenship, and to register as voters.

Recent Events
03/01/2018 - Mr. Eric Ng was inaugurated as the 65th President of the Chinese Consolidated Benevolent Association of New York.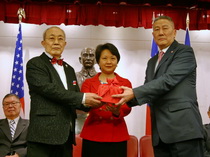 02/16/2018 - CCBA hosted the annual Lunar New Year ceremony. Many important government officials visited CCBA and greeted Chinese-Americans a happy new year, including Ambassador Lily Hsu, City Comptroller Scott Stringer, New York City Council Speaker Corey Johnson, Manhattan Borough President Gale Brewer, Brooklyn Borough President Eric Adams, Manhattan District Attorney Cyrus R. Vance, Jr., State Senator Brian Kavanaghz, State Assembly Member Yuh-Line Niou, City Council Members Margaret Chin and Carlos Menchaca, Judge Judge Doris Ling-Cohan, representatives from elected officials and many community leaders.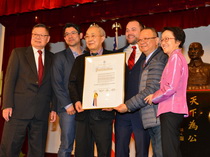 01/25/2018 - Commissioner Julie Menin of the New York City Mayor's Office of Media and Entertainment (MOME) visited CCBA to discuss the problems and resolutions regarding Chinatown's streets closure and parking spaces occupation from the movie making industry.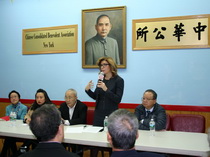 Last Updated: 4/14/2018